Located in a former site of a 1950s PEMCO gas station, Buck Atom's Cosmic Curios on 66 welcomes visitors from all over to celebrate the magic of the Mother Road with apparel, toys, souvenirs, home accessories, art, jewelry and more. Read full article.
---
"It's like taking the past and future and mashing it together," said Mary Beth Babcock of her new Muffler Man, Buck Atom. Unveiled on May 11, 2019, before a crowd of several hundred people including the mayor of Tulsa and Oklahoma's lieutenant governor, Buck is retro in his Muffler Man style, but trailblazing in his gestation and official blessing. In the past, Muffler Men have been modified, with an odd paint job, or a distinctive accessory, or an occasional weird head. Buck, however, is a new breed. He began in the 1960s as a Muffler Man cowboy in Calgary, Alberta, and ended up bashed and...
---
---
With his piercing blue eyes and rugged good looks, the 21-foot-tall space cowboy outside Buck Atom's Cosmic Curios, 1347 E. 11th St., can't be missed. The namesake's arrival this spring was a dream come true for store owner Mary Beth Babcock, who first envisioned him while at Dwelling Spaces, the popular downtown boutique she operated from 2006-2016. Read the full article here.
---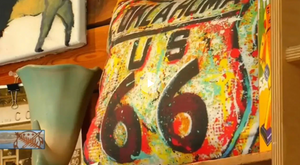 Route 66, the mother road, is a big part of Oklahoma. The stretch of road that crosses through the heart of Oklahoma, attracts tourists from all over the world, and that's exactly what state leaders, who are focused on tourism, want. It was last year in Oklahoma City, when folks hit the motherlode on the mother road, original Route 66 bricks exposed by road construction. Read the full article here